ALPMC & Property Management FAQs
It is the overseeing of residential and / or commercial real estate with the goal of ensuring seamless day-to-day operations, integrity of its records,  preserving the value of the property. Companies who manage a village are typically called the "Managing Agent"
ALPMC is a property management company that is engaged in the management of residential subdivisions. ALPMC currently manages three villages within Bataan: Central Atrium Residences in Balanga City, Trivea Residences in Limay, and Altierra Residences in Abucay.
ALPMC is a key component in the delivery of the quality and experiences offered by Asiawide Land and its subsidiaries.
ALPMC's primary offering is the management of residential villages by acting as the managing agent of its homeowners' association. 
Specifically:
  ✓ Day-to-day operations and implementation / enforcement of village house rules
  ✓ General coordination of allied agencies such as security, janitorial, landscaping and contractors
  ✓ Coordination with the local government units and regulatory bodies, including permitting for the HOA
  ✓ Accounting and bookkeeping of village financials
  ✓ Billing and collection
  ✓ Events venue rental management
  ✓ Operation, maintenance and management of common area facilities
  ✓ Preparation of cost estimates for repairs and annual operational expenditure budgets
  ✓ Management of Events & Leasing
 
* Note: answers contained herein are all based on the Implementing Rules & Regulation of Republic Act 9904 otherwise known as the Magna Carta for Homeowners & Homeowners Associations and other HLURB resolutions. You can learn more at http://hlurb.gov.ph
Village-specific rules may be found within the Deed of Restrictions, Village Rules & Regulations and its respective by-laws. You may obtain a copy of these documents through your village's property management office.
Note: For check issuance, please refer to your HOA-specific account names or contact your village's Property Management Officer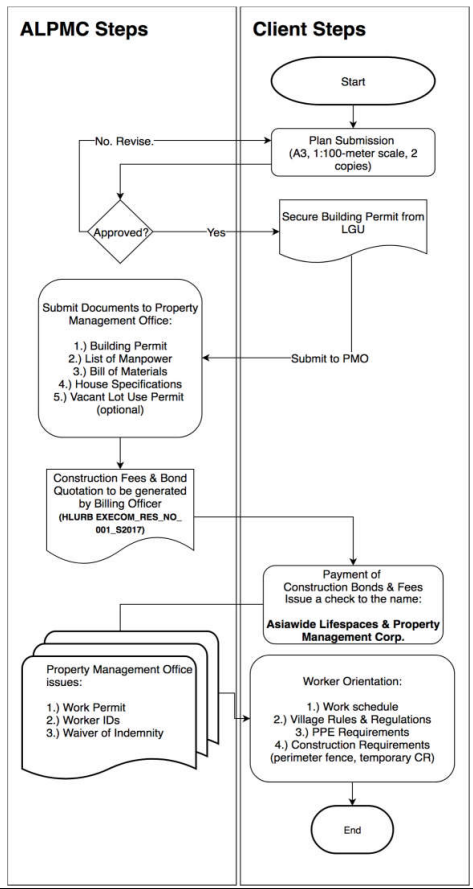 Disclaimer: For detailed steps on computing monthly association dues, click here. (Link to HLURB)
Monthly association dues are computed from a village's monthly expense to operate. The amount is then divided by the total saleable area of the village to get the base rate.
For the example below, assuming that the total saleable area is 5,000 sq.m.:
Php 39,122 / 5,000 = Php 7.82 per square meter.